QUESTION 31
Refer to the exhibit. R1 has an EBGP session to ISP 1 and an EBGP session to ISP 2. R1 receives the same prefixes through both links. Which configuration should be applied so that the link between R1 and ISP 2 will be preferred for outgoing traffic (R1 to ISP 2)?

A. Increase local preference on R1 for routes received from ISP2.
B. Decrease local preference on R1 for routes received from ISP2.
C. Increase MED on ISP 2 for routes received from R1.
D. Decrease MED on ISP 2 for routes received from R1.
Answer: A
QUESTION 32
When you are troubleshooting duplex mismatches, which two errors are typically seen on the fullduplex end? (Choose two.)
A. runts
B. FCS errors
C. interface resets
D. late collisions
Answer: AB
QUESTION 33
Which two options are contained in a VTP subset advertisement? (Choose two.)
A. followers field
B. MD5 digest
C. VLAN information
D. sequence number
Answer: CD
QUESTION 34
Which two statements are true about traffic shaping? (Choose two.)
A. Out-of-profile packets are queued.
B. It causes TCP retransmits.
C. Marking/remarking is not supported.
D. It does not respond to BECN and ForeSight Messages.
E. It uses a single/two-bucket mechanism for metering.
Answer: AC
QUESTION 35
Which three options are features of VTP version 3? (Choose three.)
A. VTPv3 supports 8K VLANs.
B. VTPv3 supports private VLAN mapping.
C. VTPv3 allows for domain discovery.
D. VTPv3 uses a primary server concept to avoid configuration revision issues.
E. VTPv3 is not compatible with VTPv1 or VTPv2.
F. VTPv3 has a hidden password option.
Answer: BDF
QUESTION 36
Which three options are considered in the spanning-tree decision process? (Choose three.)
A. lowest root bridge ID
B. lowest path cost to root bridge
C. lowest sender bridge ID
D. highest port ID
E. highest root bridge ID
F. highest path cost to root bridge
Answer: ABC
QUESTION 37
Refer to the exhibit. A small enterprise connects its office to two ISPs, Using Separate T1 links. A Static Route is used for the default Route, Pointing to both interfaces with a different Administrative distance, So that one of the default router is preferred. Recently the primary link has been upgraded to a new 10 MB/S ethernet link. After a Few Weeks, they experinced a failure. the link didn't pass traffic, but the primary static route remained active. they lost their internet connectivity, even though the backup link was operating. Which two possible solutions can be implemented to avoid this situation in the future? (Choose two)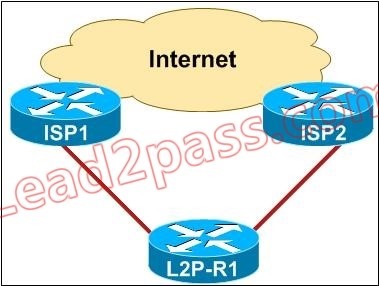 A. Implement HSRP link tracking on the branch router L2P-R1
B. Use a track object with an IP SLA probe for the static route on L2P-R1.
C. Track the link state of the ethernet link using a track object on L2P-R1
D. Use a routing protocol between L2P-R1 and the upstream ISP
Answer: BD
QUESTION 38
Why would a rogue host that is running a DHCP Server on a Campus LAN network present a security risk?
A. It may allocate IP addresses from an unknown subnet to the users
B. all Multicast traffic can be sniffer y using the DHCO Multicasr capabilities
C. the CPU utilization of the first hop router can be overloaded by exploiting DHCP Relay open ports
D. A potential Man-in-the-middle Attack can be used against the clients.
Answer: D
QUESTION 39
Which Statement is true about TCN Propagation?
A. The originator of the TCN immediately floods this information through the network
B. the TCN propagation is a two step process
C. A TCN is generated and sent to the root bridge
D. the root bridge must flood this information throught the network
Answer: C
QUESTION 40
Which statement is true about loop guard?
A. Loop Guard only operates on interfaces that are considered point-to-point by the spanning tree.
B. Loop Guard only operates on root ports.
C. Loop Guard only operates on designated ports
D. Loop Guard only operates on edge ports
Answer: A
The Professional Cisco 350-001 Exam Free Dumps Help You 100% Pass Exam